Autoclave Kettle
AAC Block Autoclave
Design Pressure :1.0-3.8 Mpa
Design Temperature :187-225°C
Length :According to the customers demands
Application : AAC Plant (Autoclaved Aerated Concrete Plant)
Brief Intro :AAC autoclave is large pressure vessel for steam curing,
has excellent thermal insulating quality. It has the advantages of
good treat efficiency, large capacity, reasonable layout, and safety
& convenient operation, etc.
Email: [email protected]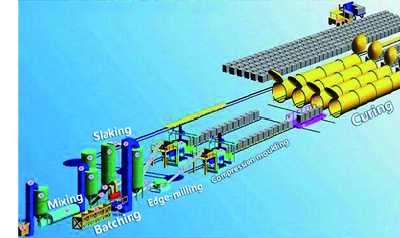 Autoclave for AAC plant is large pressure vessel for steam curing, has excellent thermal insulating quality, and it works with steam boiler.
The autoclave is a horizontal cylinder, when curing the aerated concrete, there is hydrothermal reaction (CaO-SiO2-H2O) happened in autoclave.
It has the advantages of wide applicability, high efficiency, large capacity, reasonable layout, and safety operation, etc. We could design and manufacture various forms of autoclave according to your requirements.
Except AAC plant, the autoclave could also be used for wood preservation, maintenance and steaming of lime-sand brick, fly-ash brick, new light wall material, concrete tubular pile and other building products, moreover, it can used for the products steaming in chemical industry, medicine, rubber, wood corrosion prevention, gypsum, glass, thermal insulation materials, textile, war industry and other area.
Autoclave Advantages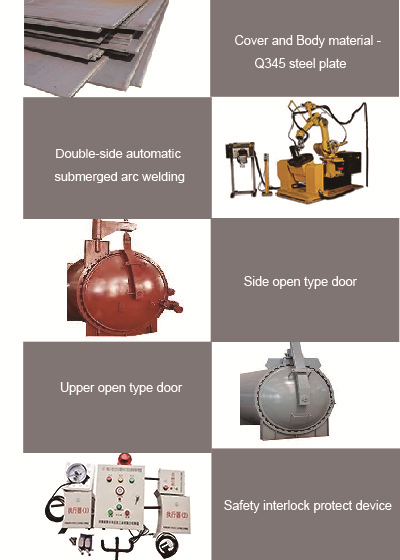 1. High quality materials
The autoclave cover uses monoblock Q345R steel plate for compression moulding, and the flange of autoclave cover and body use Q345R steel plate for integral forgoing, to ensure the high quality.
2. Advanced processing technology
Double-side automatic submerged arc welding are used for the weld joint of autoclave cover head and flange, and then heat treatment and strict nondestructive testing are processed for all weld joint of pressure parts, eliminate forging stress and welding stress.
3. Special and convenient structure
There are two open types, and the door could be designed as manual operated or automatic operated.
1) Side open type using the rotating arm type door - opening structure. Flexible rotation, low post operation, simple and convenient opening.
2) Upper open type door using the lever type door-opening structure, lower leverage connect with kettle door, the top part equipped with counterweight device, open portable and occupies small space.
4. Safe operation
Equipped with sophisticated safe interlock protection device, utmost avoid the potential wrong operation, to ensure the safe operation.
5. Boiler customization
Jinzhen boiler could customize the autoclave based on the requested length, width, or pressure.
Technical Parameter

Model

Internal dia(m)

Effective

length(m)

Designed

pressure

(Mpa)

Designed

temperature(°C)

Working

medium

Length×Wide×Height (mm)

Weight (ton)

FGZCS1.0-1.65×21

1.65

21

1

187

Saturation

steam

22650×2619×2695

21.5

FGZCS1.3-2×21

2

21

1.3

198

23300×2980×3340

24.7

FGZCS1.3-2×27

2

27

1.3

198

2930×2980×3340

30.5

FGZCS1.3-2×31

2

31

1.3

198

33300×2980×3340

33.4

FGZCS1.3-2.5×27

2.5

27

1.3

198

29560×3254×4117

/

FGZCS1.3-2×31

2.5

31

1.3

198

33560×3254×4117

/

Notes: 1. Parameter is for reference only, if any changes should follow actual drawings.

2.We can design the specific industrial autoclave based on customers'requirement.
Contact Us

Tel:+86 158 3808 8573
Fax :+86 371 5596 3948
Mobile:+86 158 3808 8573
E-mail: [email protected]
Skype: 15838088573
Whatsapp: +86-15838088573