Autoclave Kettle
Wood Impregnation Autoclave
Wood treatment capacity:1-40m3
Working pressure : 0.8-3.6Mpa
Vacuum degree:-0.098Mpa
Working degree:0-180 degree
Working medium: water solubility and glue style wood protection chemical or creosote
Working method :vacuum impregnation ,high pressure impregnation ,high and low pressure frequency method

Introduction
1) Wood Impregnation Autoclave ( also called Wood treatment equipment ) apply to be preservation, termite proof and to prevent fungal. Especially landscape floor, outdoor wood platform and wood plank road and other preservative wood pergola.
2) This treatment equipment have special craft for wood, such as: vacuum pressure method, fullcell method, high low frequency pressure as so on. Especially vacuum pressure method. The preservative level can get C4.
3) You can use CCA and ACQ two kinds of preservative match our wood preservation autoclave.
4) PLC is a new intelligent control wood preservative system, which make the wood preservation equipment to be easy, and to be safety, to be reliable. Meanwhile, Even if the wood don't be push out, this can accurately calculate if the preservative is permeated in the wood.
Technical Parameter
SPECIFICATION

VOLUME(Cube)

SINGLE TIME

TREAT VOLUME(Cube)

PRESSURE(kg/Cube)

VACUUM DEGREE

DN1000*8000MM

6.8

3.6

16

0.098MPA

DN1200*8000MM

9.6

5.6

16

0.098MPA

DN1400*8000MM

13.1

7.2

16

0.098MPA

DN1500*8000MM

15.6

8.6

16

0.098MPA

DN1600*8000MM

17

10.2

16

0.098MPA

DN1800*8000MM

21.6

15

16

0.098MPA

DN2000*8000MM

27

17

16

0.098MPA

DN2400*8000MM

40

25

16

0.098MPA
Specification
1. Double safety protection device: we design double safety device, manual safety, and automatic safety interlock, Only there is pressure inside the tank, the worker cann't open the door .
2. Automatic set time function and light alarm, save worker's time, you can set any time in the control box, once it finish, it will stop work and alarm.
3. Quickly discharge chemical: 10 minutes to discharge chemical, improve treated time.
4. Perfect tightness: we use air filled style to seam the door and the system match automatic inlet and outlet air pneumatic valve, it can balance tank pressure well.
5. High efficiency, save energy, once the equipment finish vacuum and pressure stage, the pump will stop, but whole tank still keep vacuum state.
Usage
After treated wood can be used for wooden bridge, wooden fence, poles wooden house, wooden furniture, sleepers. There are there kinds of hemica,water solution,oil chemical,resin chemical.. More details welcome to consult with us.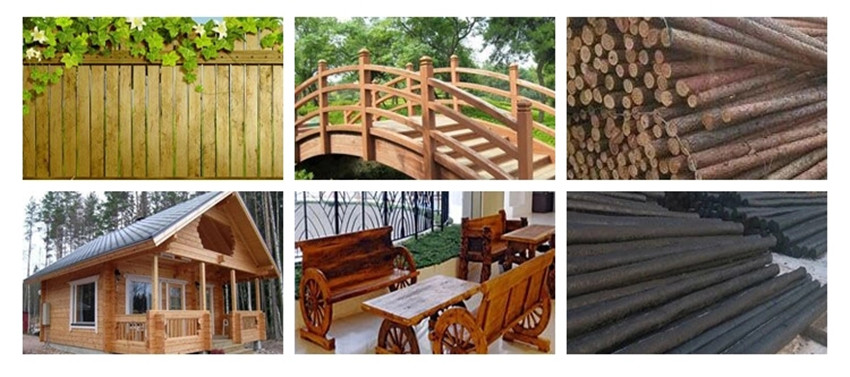 Contact Us

Tel:+86 158 3808 8573
Fax :+86 371 5596 3948
Mobile:+86 158 3808 8573
E-mail: [email protected]
Skype: 15838088573
Whatsapp: +86-15838088573