Gas Oil Steam Boiler
Fast Installation Steam Boiler
Fast Installation Steam Boiler
Steam capacity: 0.5-4Ton/h
Steam Pressure:0.7/1.0/1.25/1.6/2.5 Mpa
Steam Temperature:170/184/194/204/225C
Fuel Type: Gas (natural gas, LPG, Biogas), light oil (2#diesel, Kerosene), heavy oil (6# fuel oil, crude oil)
Application: Textile, Garment, Food & Beverage, Cement Curing, Disinfection, etc.
WNS series oil/gas fired steam boiler adopts horizontal three-pass wet-back structure,large corrugated furnace and patented thread pipe technology,equipped with international first-level brand burners and valve groups,and independently developed high-matching PLC control system to realize muitiple linkages.The lock protection function protects the equipment running safely.This fast installation steam boiler is normally suitable for 500kg to 3ton/h capacity,use all kinds of gas and oil fuels,such as natural gas, lpg,lng,cng,city gas,biogas, diesel oil,heavy oil.
Boiler Feature
1. Fully wet back combustion chamberThe reburning chamber abutting with the rear tube plate, boiler is 100% fully butt welded, lower stress, and reliable quality.
2. Large-diameter corrugated furnace
The boiler combustion chamber is composed of large-diameter corrugated furnace, larger combustion space, completed combustion, larger heating area, higher thermal efficiency.
3. Multi-functional anti-explosion device
The boiler rear plate equip with anti-explosion device which connected to the furnace, it can release the pressure and self-reseted once fuel deflagration in the furnace. At the same time, it has the function of fire watching and inspection.
4. High thermal efficiency
The economizer was equipped at the rear of boiler, which can reduce the exhaust gas temperature and increase boiler feed water temperature,improve efficiency can reach to 96% (fuel: natural gas ).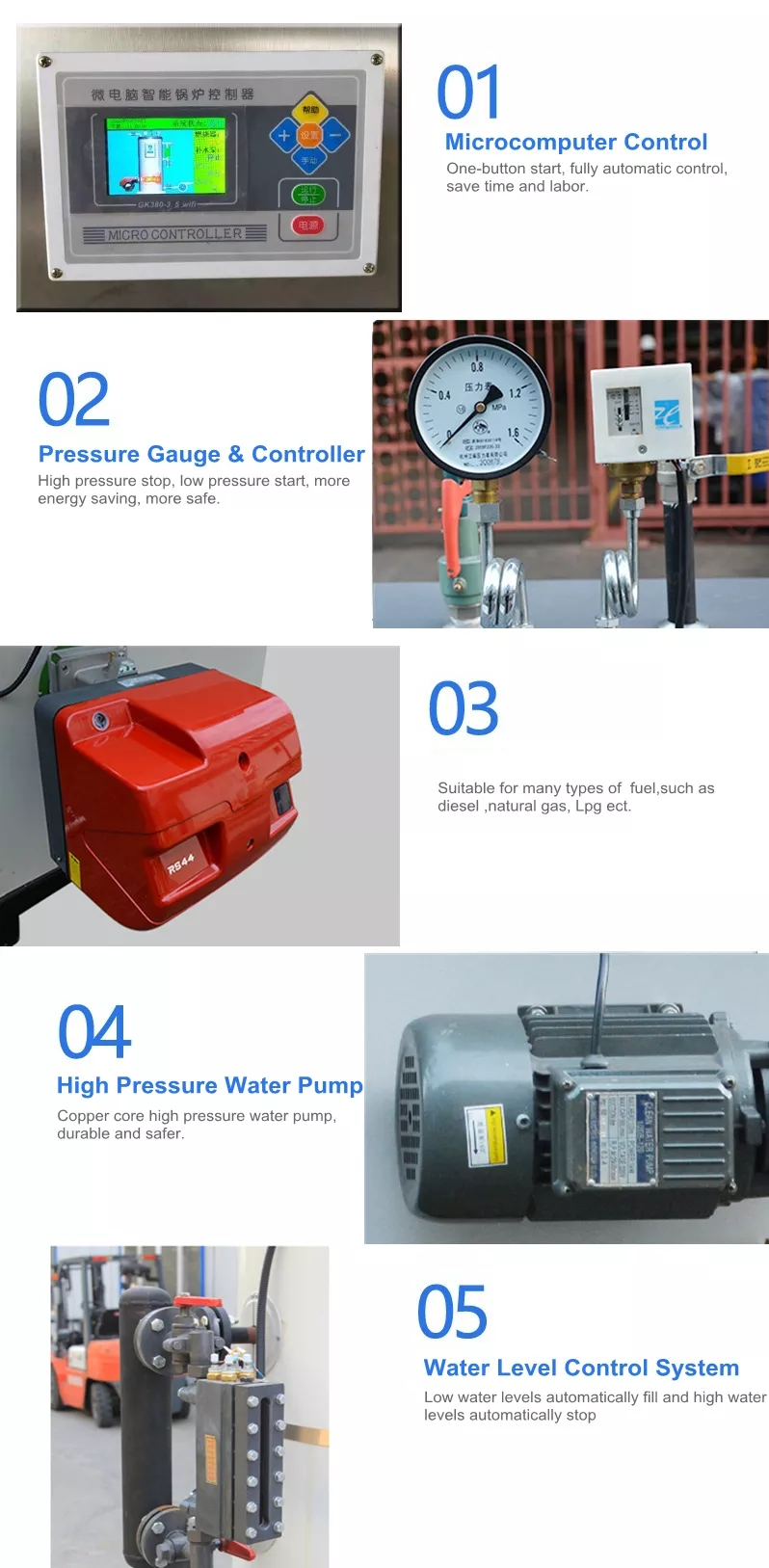 Contact Us

Tel:+86 158 3808 8573
Fax :+86 371 5596 3948
Mobile:+86 158 3808 8573
E-mail: [email protected]
Skype: 15838088573
Whatsapp: +86-15838088573