Gas Oil Steam Boiler > Gas steam boiler >
Condensing Steam Boiler
Model:WNS Type Condenser Steam Boiler
Structure:Wet Back Fire Tube Three Pass
Rated Steam Capacity:1-10 ton/hr
Rated Steam Pressure:7/10/13/16/25 bar
Rated Steam Temperature:170/184/194/204/225 C
Application:Textile Mill,Food and Beverage,Chemical,Medicine,Light Industry,Rubber,
Printing and Dyeing Plant,Paper Mill,Wood Processing,Garment and Laundry etc.
WNS series oil gas fired condensing boiler is a kind of safe and high efficiency heating equipment with full automatic control system.This series oil gas fired boiler is horizontal type fast assembly fire tube boiler with three pass structure, it has compact structure, small volume, strong load adaptability and low water quality requirement. This steam boiler adopts wet back structure, it can adapt to high temperature, has a good sealing, increase the radiation heat transfer area and improve the heat transfer efficiency.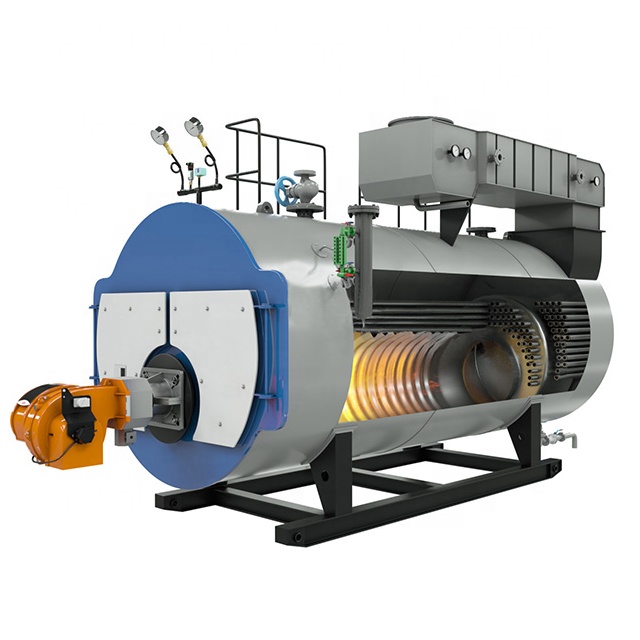 Characteristics of Condenser
1. By equipped with the condenser (economizer) at the tail of the boiler, make full use of flue gas heat, decrease the exhaust smoke temperature, improve the thermal efficiency to 98%.
2. The condenser uses fanned tubes to increase the heating surface, improve heat transfer efficiency.
3. The fanned tube adopts stainless steel to avoid low temperature corrosion.
Performance Advantages
1. High Efficiency
1) Equipped with high quality and reliable burner, high combustion efficiency, low harmful gas emission and noiseless operation.
2) Adopts horizontal type three pass structure, absorbs the thermal expansion effectively. Uses large diameter corrugated furnace, large combustion space, high combustion efficiency.
3) The spirally corrugated tube strengthen the disturbance of flue gas, high heat transfer efficiency.
4) The boiler shell use aluminium silicate board for heat preservation, low heat loss.
5) Equipped with economizer, make full use of the heat of flue gas, decrease the exhaust smoke temperature, the thermal efficiency could be increased to as high as 98%.
2. High Safety Performance
1) Complete gas manifolds and protection system, including filter, pressure regulating valve, and solenoid valve, etc., to ensure the safety performance of fuel.
2) Reliable boiler auxiliaries and multiple safety protection devices, such as pressure controller, pressure transmitter, water level alarm, safety valve, etc.
3) Equipped with explosion proof equipment, discharge high energy when deflagration happened in furnace, to ensure the boiler operate safety and efficiently.
3. Full Automatic Control
Adopts PLC full automatic intelligent control cabinet and interlock protection program, has the protection function of water shortage, over pressure, over temperature, gas leakage, flame out, electric leakage, and phrase-lacking or overloading of motor, etc.
4. Low Cost
1) Adopts proprietary technology of Jinzhen Boiler, the boiler is 100% butt welding, high quality, and long working life, low maintenance fee.
2) The boiler has high combustion efficiency,energy saving, and low cost on fuel.
5. Save Space
Adopts fast assemble structure, compact structure, convenient for transportation, small occupation.
6. Convenient Maintenance
1) There are manhole, head hole, and special hand hole on the boiler. The front and back smoke chambers are equipped with movable doors, convenient for boiler internal installation, inspection and clean.
2) The explosion proof door has the fire sight glass and inspection gallery, convenient for furnace checking and maintaining.
Technical Parameter
Model

Rated evaporation

Rated steam

Thermal efficiency

Fuel consumption

Overall

dimension

Weight

Body Heating

Capacity

(t/h)

Pressure

(Mpa)

(%)

Light oil

(Kg/h)

Natural gas

(Nm³/h)

(m)

(t)

Area

(m2)

WNS1-0.7/1.0-Y(Q)

1

0.7/1.0

>90

66.5

75

3.6×2.0×2.0

4

25

WNS2-1.0/1.25-Y(Q)

2

1.0/1.25

>90.2

133

150

4.8×2.5×2.46

8

60

WNS4-1.0/1.25-Y(Q)

4

1.0/1.25

>91

266

300

5.8×2.85×2.8

13

113

WNS6-1.25/1.6-Y(Q)

6

1.25/1.6

>91.5

399

450

7.25×3.1×3.15

19

181

WN8-1.25/1.6-Y(Q)

8

1.25/1.6

>91.6

532

600

7.45×3.26×3.2

22.6

190

WNS15-1.25/1.6-Y(Q)

15

1.25/1.6

>91.8

997

1125

8.7×3.7×3.5

34

346

WNS20-1.25/1.6-Y(Q)

20

1.25/1.6

>92

1204

1418

10×3.6×4.0

45

467

Note: Parameter is for reference only, we can design the boilers based on customers' demand.
Contact Us

Tel:+86 158 3808 8573
Fax :+86 371 5596 3948
Mobile:+86 158 3808 8573
E-mail: [email protected]
Skype: 15838088573
Whatsapp: +86-15838088573