Coal Wood Steam Boiler
Double Drum Steam Boiler
Model:SZL Series Coal / Biomass Boiler
Structure:Water Tube Double Drum
Fuel:Coal, Biomass, Wood, Chip, Husk, Sawdust, Jute, Shell, Waste Solid Fuel etc.
Capacity: 4 - 25 ton
Pressure:1.25/1.6/2.5 Mpa (12.5Bar/16Bar25Bar)
Temperature:194/204/225 C
Application:Rice Mill,Chemical,Paper Mill,Sugar Mill,Textile Mill,Rubber Plant etc
SZL assembly double drum water tube steam boiler is horizontal type large capacity water tube boiler with high steam quality.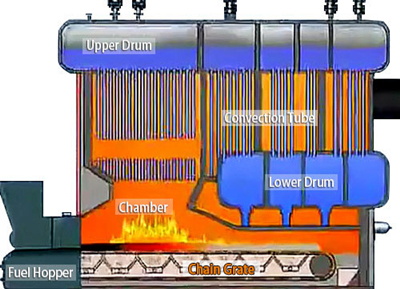 Compare with the previous boiler, the new type SZL boiler adopts membrane water cooling wall, low thermal inertia design, and water cooling combustion chamber. Except coal, wood chips, the SZL series boiler could burn other biomass fuel as well, such as bamboo chips, straw, rice hull, peanut shell, bagasse, cotton stalk, coconut shell, corncob, waste cloth, etc. The source of solid biomass fired boiler fuel is widespread, has the advantages of low cost, environmental friendly (sulfur content<0.06%, and zero CO2 emission), energy saving, and high combustion efficiency (>90%).
Boiler with steam capacity lower than 4t/h is fast assembly water tube structure, the boiler with steam capacity between 6~25t/h is consisted of upper part (boiler heating part) and lower part (combustion equipment). This series boiler has reached the international advanced level on technology and performance, has the advantages of compact structure, convenient installation, short install period, low cost, and environmental protect.
Application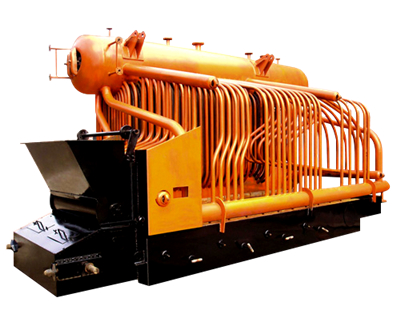 SZL series double drum steam boiler is widely used in industries, such as textile plant, rice mill, garment factory, utility
or power plant, etc. The relevant capacity hot water boiler is widely used in hospital, hotel, school, farm, etc.
Technical Advantages
1. Advanced arch design
1) Furnace arch adopts advanced design, forming obvious inverse "α" flue gas flow, which makes the boiler strong adaptability of different fuels.
2) The front and back arches are "wet arch" structure, keep a constant temperature and protect the arch.
2. Membrane water wall
1) The boiler body use membrane water wall structure, good sealing, low heat lose.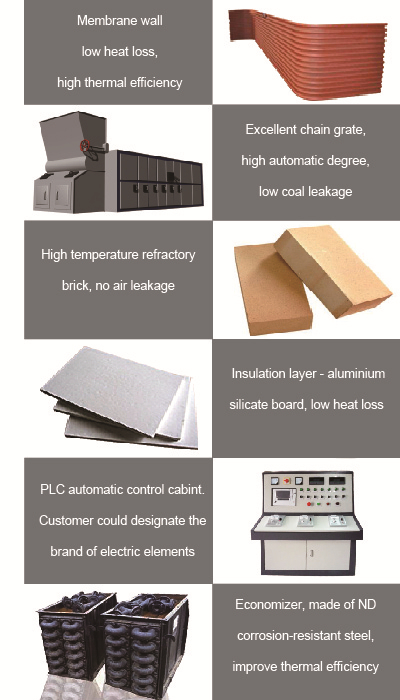 2) Adopts water cooling combustion chamber, increase the radiant heating area, improve the output and thermal efficiency.
3. Excellent chain grate
1) The grate is 500~1000mm longer than others, the fuel combustion time is longer,
improve the combustion efficiency.
2) The small scale flake grate could resist the temperature as high as 1200℃, long working life.
3) The chain grate has a low coal leakage because of the small gap.
4) High automatic degree, decrease labor cost.
5) Convenient for maintenance, it could be done without boiler shut down.
4. Anti Coking Measures
1) The left and right headers are designed as anti-coking headers.
2) Adopts unique double secondary air design, improves the ignition condition of biomass fuel, sufficient air supply to make sure the high combustion efficiency, and avoid fuel coking.
5. Sufficient output
The boiler is equipped with double drums, membrane water wall, and large diameter furnace, the radiant heating area increases more than 50%, achieves sufficient output.
6. Low thermal inertia insulating layer
The boiler shell use light aluminum silicate board for heat preservation, low thermal inertia, and low heat loss. The temperature of furnace rise up quickly.
7. Both sides air inlets
Boiler adopts bilateral air inlets and independent wind chambers, could adjust wind volume and pressure flexible, to ensure the sufficient combustion.
Technical Parameter
Model
SZL4
SZL8
SZL10
SZL15
SZL20
SZL25
Rated Steam Capacity (t/h)
4
8
10
15
20
25
Rated Working Pressure(Mpa)
1.25/1.6/2.5
1.25/1.6/2.5
1.25/1.6/2.5
1.25/1.6/2.5
1.25/1.6/2.5
1.25/1.6/2.5
Feed Water Temperature (

℃

)

20
20
60
105
105
105
Steam Temperature (

℃

)

194/204/226
194/204/226
194/204/226
194/204/226
194/204/226
194/204/226
Body Heating Area (m)
96.5
177
228
311
727
920
Grate Area(m)
5.5
10.4
11.8
17.7
20.8
25.8
Fuel Type
Second-class Bituminous Coal, Meagre Coal, Biomass etc
Combusion Method
Chain Grate
Overall Dimension (m)
7.6×2.9×3.5
7.1×3.3×3.5
7.8×3.2×3.5
9.5×3.3×3.5
11.6×3.2×3.5
11.7×3.6×3.5
Weight of Biggest Part (t)
36.6
33
35
40
45
50
Note: Parameter is for reference only, if any changes should follow the factory technical data.
Contact Us

Tel:+86 158 3808 8573
Fax :+86 371 5596 3948
Mobile:+86 158 3808 8573
E-mail: [email protected]
Skype: 15838088573
Whatsapp: +86-15838088573