Thermal Oil Boiler > Diesel Fired Thermal Oil Boiler >
Diesel Fired Thermic Fluid Heater
Heat Power:300,000-2,000,000 Kcal/H
Working Pressure :0.8 Mpa
Fuel :diesel, heavy oil, light oil, crude oil
Application : textile printing and dyeing, plastic and rubber, paper industry,
wood industry, building material, food industry, etc.
The thermal oil heater is a kind of special industrial furnace which uses diesel oil as the fuel, the furnace takes heat carrier oil as medium and uses the hot oil circulating pump force the medium to make liquid circulation; then the thermal energy will be transmitted to the devices and back to the furnace to be reheated.
Our thermal fluid boiler heater has skid-mounted design and full automatic control system. The heat carrier is thermal fluid oil, boiler's working pressure ≤0.8MPa, working temperature ≤350℃. Adopting three-pass structure, 3 layer corrugated coil rings.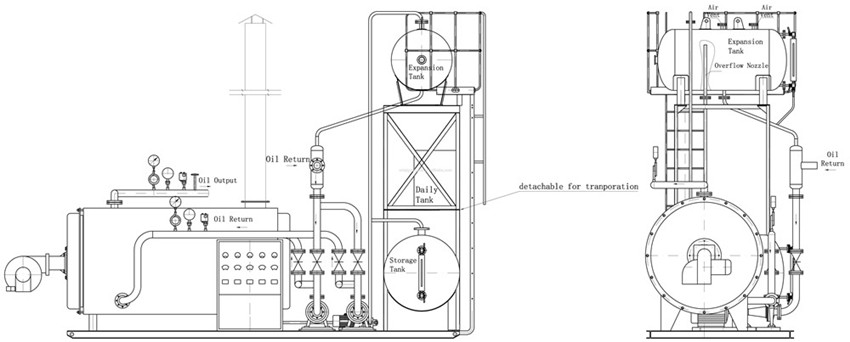 This thermic fluid heater has advanced program control system, equipped with liquid level controller , pressure controller, temperature controller, and alarms to make sure the boiler work orderly and safe. So it is a kind of safe boiler with high efficiency and low power consumption.
Its advantage is Free-Installation
The complete boiler system is well skid-mounted on the basement, also we have done the pipe(valves) connection and wire connection. After receiving the boiler, user no need to do installation, just filling the thermal fluid oil, join the fuel and electricity. Entire boiler system is portable.
Features
1. High Quality and Reliable Oil Burner
High combustion efficiency and environmental protection.
2. Excellent coil design
The spiral pipes are made of small diameter multi-head steel tubes, good thermal expansibility, low stress, safe and reliable.
3. Large Diameter Furnace
Large radiation heating area, increase thermal efficiency and reduce the NOx emission.
4. High Thermal Efficiency
1) Adopts three pass heating system, improve the heat utilization efficiency.
2) Uses aluminium silicate board for heat preservation, high thermal shielding efficiency.
3) By equipping with economizer, make full use of the heat of flue gas.
5. High Quality boiler auxiliaries and multiple safety protection devices
pressure controller, pressure transmitter, water level alarm, safety valve, etc.
6. Excellent Automatic System
Adopts PLC full automatic intelligent control system, to ensure the safe operation.
7. Convenient Maintenance
1)There are maintenance holes on the boiler, convenient for boiler internal installation, inspection and clean.
2)The explosion proof equipment has the fire sight glass and inspection gallery, it is convenient for furnace checking and maintaining.
Application Industry Of Thermic Fluid Heater
Petrochemical industry: polymerization, melting, condensation, distillation, de-H2, forced insulation.
Oil industry: fatty acid distillation, oil decomposition, concentration, esterification, vacuum deodorization.
Textile printing and dyeing industry: heat setting, hot melt dyeing, baking, calendering, drying, hot air stentering.
Plastic and rubber industry: hot pressing, hot rolling, extrusion, vulcanization, calendering, injection molding machine, glue mixer, conveyor belt dryer.
Papermaking industry: drying, corrugated paper processing, calendering, rubberized rollers.
Wood industry: Thermal oil heater to make plywood, MDF hot pressing, wood drying, steaming equipment.
Building materials industry: gypsum board drying, asphalt heating, asphalt concrete, emulsified asphalt, concrete component maintenance, drying equipment, linoleum production lines.
Machinery industry: spray paint printing drying, assembly processing, cleaning and drying.
Food industry: baking bread, drying biscuits, cooking pots, autoclaves, conveyor belt dryers.
Air-conditioning industry: heating of industrial plants and civil buildings.
Electrical equipment industry: calender, platen press, vacuum pot, dryer.
Coking industry: gas storage tank, mixing station, distribution station.
Metal and foundry industry: degreasing tank, phosphate processing equipment, baking machine (room), sand core drying.
Detergent industry: cooking pots, autoclaves, conveyor dryers, lipolysis equipment, distillation towers.
Fat and paint industry: autoclave, dryer, retort, cooking equipment.
Automobile industry: tunnel drying room, degreasing bath, phosphate treatment equipment.
Carbon industry: graphite electrodes, carbon products, asphalt melting, kneading pot heating, extrusion molding.
Contact Us

Tel:+86 158 3808 8573
Fax :+86 371 5596 3948
Mobile:+86 158 3808 8573
E-mail: [email protected]
Skype: 15838088573
Whatsapp: +86-15838088573