Thermal Oil Boiler
Natural Gas LPG Fired Thermal Oil Boiler
Rated power: 300,000-2,000,000 Kcal/H
Pressure: 0.8Mpa
Fuel: natural gas, LPG, etc.
Application: Textile printing and dyeing, plastic and rubber,
wood industry, building material, machinery industry, food industry, etc.
YY(Q)W series oil fired thermal oil boiler is an safe and energy saving boiler with working characteristics of low working pressure (0.8 MPa) and high temperature (330℃).
The heat carrier is heat conduction oil, the circulating pump force heat transfer medium circulating in liquid phrase, and transfer heat to heat user equipment, then return to the heating furnace for reheating. Jinzhen Boiler has a mature R&D and design team, could customize the boilers based on customers' requirement.
Advantages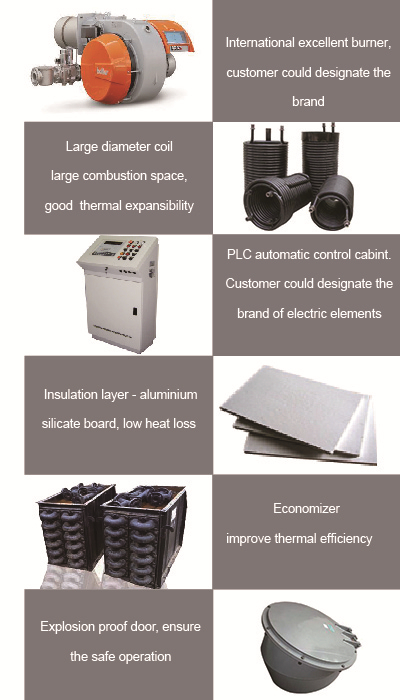 1. High thermal efficiency
The boiler is circulation heating in liquid phase, there is no heat loss leaded by condensing, thermal efficiency is high, and the boiler is very safe when operating.
2) The boiler shell use aluminum silicate board for heat preservation, low heat loss.
3) By equipped with economizer, make full use of flue gas heat, decrease the exhaust smoke temperature.
2. Large combustion chamber
The boiler combustion chamber is composed with large diameter coil, enough fuel combustion space, sufficient combustion, high thermal efficiency. Moreover, the boiler adopts positive pressure combustion, improve the combustion efficiency.
3. Excellent coil design
The spiral pipes are made of small diameter multi-head steel tubes, good thermal expansibility, low stress, safe and reliable.
4. Sufficient output
The boiler adopts horizontal type three pass structure, improve the heat utilization efficiency. Large heating area, good heat transfer, achieve high thermal efficiency and sufficient output.
5. Multi-function safety explosion-proof equipment
Equipped with explosion proof equipment at the back of boiler, prevent deflagration in furnace, discharge high energy, to ensure the boiler operate safely and efficiently.
6. Perfect automatic control
The boiler adopts PLC full automatic intelligent control cabinet and interlock protect system, has the protect function on oil temperature, medium temperature, pressure, etc, adjust conveniently.
7. Convenient installation
The boiler is package boiler, compact structure, covers small area, convenient for installation and maintenance.
Technical Parameter
Model

Rated power(KW)

Design

pressure

(Mpa)

Medium outlet

temperature(℃)

Thermal efficiency (%)

Overall dimension

L×W×H(mm)

Weight (t)

YY(Q)W-120Y(Q)

120

1.1

≤350

75

1600×1020×1520

1.5

YY(Q)W-1000Y(Q)

1000

1.1

≤350

85

3300×1670×2486

5

YY(Q)W-2400Y(Q)

2400

1.1

≤350

85

5080×2200×3180

9.8

YY(Q)W-3000Y(Q)

3000

1.1

≤350

85

5983×2420×3404

15.5

YY(Q)W-4700Y(Q)

4700

1.1

≤350

85

7285×2570×3760

21.5

YY(Q)W-6000Y(Q)

6000

1.1

≤350

85

7800×3050×3800

25

YY(Q)W-7000Y(Q)

7000

1.1

≤350

85

8200×3050×3800

27.5

YY(Q)W-10000Y(Q)

10000

1.1

≤350

85

10000×3500×4000

32

Notes: Parameter is for reference only,if any changes should follow actual drawings.
Application
Owing to its characteristics of high heating temperature, low working pressure, and energy saving, the oil fired thermal fluid heater could be widely used in a variety of industrial heating process.
1) Textile industry - dyeing machine, drying rooms, high temperature machine, resin setting machine.
2) Food industry - cooking, drying, vegetable oil refining.
3) Chemical industry - oil chemistry, polymer industry, reaction tanks, distillation, concentration.
4) Plastics industry - plastics fired, extruded shape.
5) Rubber industry - hot press, hot extent, extrusion, vulcanization molding, injection, etc.
6) Paper industry - drying, corrugated paper processing, calender, glue roller.
7) Wood industry - hot processing, heat setting.
8) Machinery industry - drying, assembly processing
9) Building materials industry - plasterboard drying, asphalt heating, emulsified asphalt, asphalt concrete, concrete component maintenance, etc.
10)Synthetic fiber industry: polymerization, melting, spinning, extension, dry
Contact Us

Tel:+86 158 3808 8573
Fax :+86 371 5596 3948
Mobile:+86 158 3808 8573
E-mail: [email protected]
Skype: 15838088573
Whatsapp: +86-15838088573